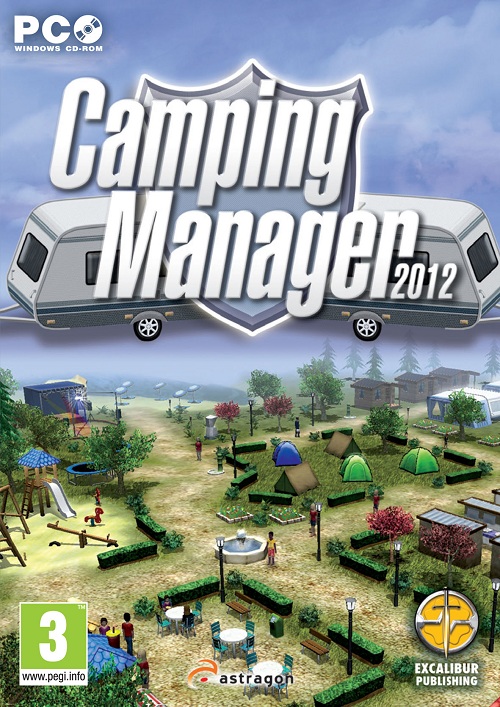 Camping manager, or as I see it, camping tycoon is a new title brought to retail stores thanks to Excalibur Publishing, and puts you in charge of managing a camping site, sounds pretty straightforward right? Well the only good sort of camping site is a happy one, so you'll need to getget out there and keep your visitors happy, just remember to jack up the prices of soda; relaxing is thirsty business!
The outside world is little worry in the carefree world of camping, so Camping Manager adequately comes complete with 3 freeplay maps allowing you to set up camp on the good old traditional grasslands, coastline, or go all out exotic with some beautifully relaxed beaches. Best of all, the freeplay maps give the player as much time as necessary to set up camp, relax, and let the world pass them by.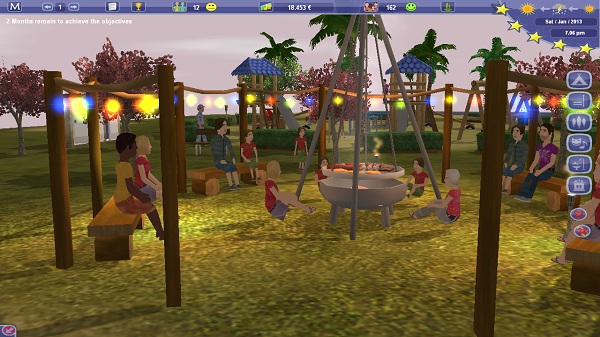 If you prefer a little more structure in your gaming, and like to work to goals and objectives then you may be more interested in the campaign mode that dangles eleven different camp sites across Europe in your face, as you unlock them one at a time. With campsites available in Italy, Greece, France, Germany, Sweden, Poland, and of all places Guildford, England where you'll be working to stringent victory conditions with a specified time limit. As you progress further into the campaign, the stakes get higher and you'll be required to raise the satisfaction of your visitors above and beyond, whilst ensuring that a large sum of money is in your bank, and even attract a certain amount of holidaymakers to your resort.
Unfortunately whether you begin in freeplay or the Campaign, you are just dumped into the game, there is no tutorial whatsoever which, for a tycoon style game is a little frustrating; forcing you to explore the different menus, screens and generally work out what your customers want, that said, after around half an hour in the game, you'll pretty much understand everything that is going on, thanks to a few tooltips scattered around the screen, just be a little patient at first.
Managing a campsite is not as simple as placing a few tents down; as the manager you're required to take into consideration the sanitation of the site, the leisure facilities on offer, the ambient qualities and the proximity of your customers to food and water. As ever, in Camping Manager the customer is always right, and in order for your campsite to succeed you need to satisfy your holidaymakers in these fields.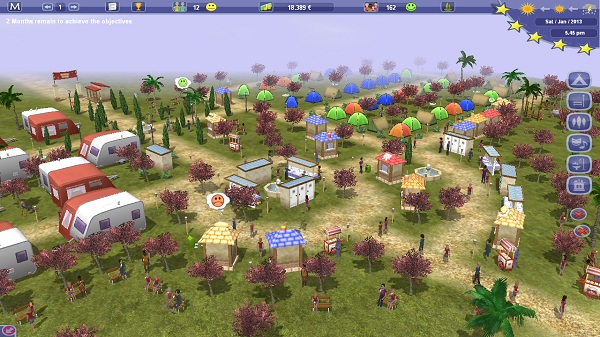 Your campsite won't simply attract the hip young crowd ready to survive the harsh outdoors, and if you provide adequate accommodation you'll find whole families, and even senior citizens will set up camp if you can afford to furnish your site with fancy chalets and caravans; sure they'll cost a pretty penny compared to dirt cheap tents, but the overall profit margin is far tastier!
You could chose not to provide toilets for your visitors, however no one appreciates the smelly consequences, in order to raise the sanitary conditions of your site you can place toilets, showers, sinks and more, however it doesn't take much for the sanitary to turn unsanitary, and if you do not staff your campsite with cleaners you'll soon find that your visitors complain of the smell of the facilities even though you've been kind enough to provide them with toilets!
Whilst the smell of your camp cannot be easily rectified, some visitors may turn a blind eye if your park is pretty enough, after all, the ambience of your campsite is very important, and a few trees here and there can easily turn most frowns into an ecstatic smile, it's just unfortunate that the range of items is not a little larger.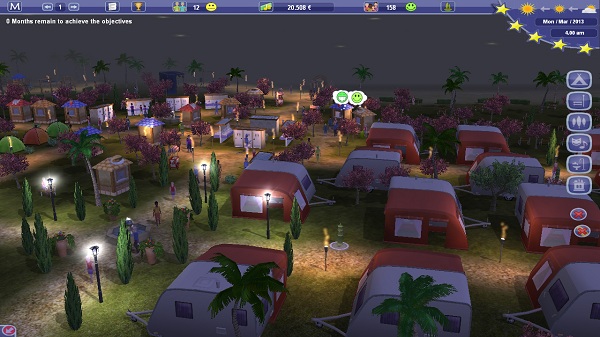 The artists in us all will always enjoy the thrill and technique behind creating the perfect campsite, however like most management titles, the real fun is to be had in balancing your books out. If times do get a little rough you can be bailed out of debt with a quick loan, however if you carefully manage the prices of your commodities, raise ticket prices and generally ebb and flow with demand and satisfaction you'll have the game eating out of your hand, and whilst on the finances side things don't get very deep, there is a simple and enjoyable strategy there.
Much like the great Theme Park, it is very easy to get lost for hours looking after your campsite in Camping Manager, although unfortunately you'll find that a brick wall comes a little sooner than you'd think. After constructing as much as possible on your site you'll find space does become quite an issue in the game, and without the ability to expand your sandbox you'll find managing your crowded site a little claustrophobic. Plus with only seven unlocks to improve your camp site with, you'll find that using the same old tactics does get a little stale after a while.
Whilst the game can get a little repetitive, after balancing your books, and designing your campsite, you'll shortly find that not only do you have a comprehensive strategy on your hands, but also a very charming game; your visitors are full of life and whether they are running back to their tents in a big storm, or taking a spin on the disco floor for some grade A excitement, simply tracking their satisfaction of your site is a fun task in its own!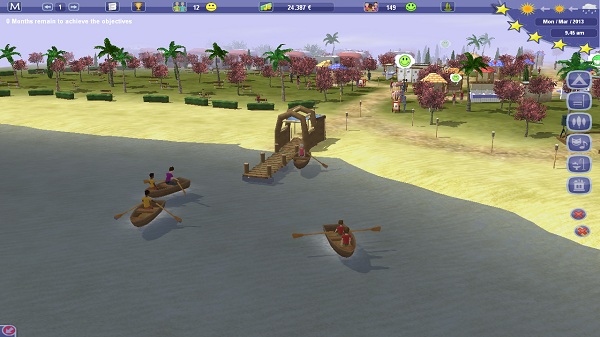 Camping Manager is a simple, but effective take on the tycoon manager subgenre plus it's full of character, and the campaign will bring a challenging meal to your plate, just don't be disappointed when 3 hours into your campsite you find little else to do but balance the books.

Camping Manager is available now in all good retailers and online stores for the SRP of £24.99, if you're looking for a simple tycoon/manager game then look no further, we're just sorry about all the Theme Park comparisons.