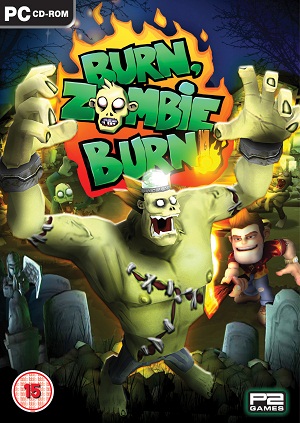 As everyone knows, we at Gamercast love our zombies, so we were very pleased to find out that doublesix's Playstation 3 hit, Burn Zombie Burn, is heading to Steam this August!
Gamers will take on Bruce, an average guy who wished to spend some time with his girlfriend Daisy, lo-and-behold their Saturday night was ruined by packs of zombies.
It's up to players as Bruce to shoot, burn and blow up as many undead abominations as possible before his attacks will no longer repel them. The Steam version of the game will feature the usual Freeplay, Defend Daisy and Timed modes, as well as a new Survival mode, additionally the inclusion of a harder Extreme difficulty will demand a player's best shooting and dodging skills as you face off much tougher enemies. You will also receive a strategy guide and comic, just in case you are incapable of the true elimination skills of zombies.
Burn Zombie Burn features six levels inspired by American horror movies including classic zombie killing locations as; The Woods, Graveyard, Suburbia, Drive-in, Military Base, and of course the Secret Lab. As well as ten custom challenge levels with hilarious options such as 'My Exploding Zombie Head', 'Zombies ate my Teddy!' and 'Lawn of the Dead'.
The game also features a huge range of classic horror-movie styled weapons to help in your zombie massacre including the baseball bat, the ever-favourite shotgun, the classic chainsaw, as well as some new additions such as the Dance Gun and the Brain Gun.. sounds a bit Ratchet and Clank to me.
Burn Zombie Burn will bring the fun of the zombie massacre game to the PC where some may consider not as strong a presence, the guys at P2 Games must have thought likewise when tehy decided that to release Burn Zombie Burn to Steam. No word on pricing yet, although we assume it will be similarly priced to the PSN title around the £10 mark.