Deep Silver have announced that they will be distributing the retail release of Telltale's hit adventure game series in the first quarter of 2012 across the UK and Europe, the cult films can remain in your hearts that little bit longer with this homage to the series that tells a fresh new time travelling story with Marty and the Doc.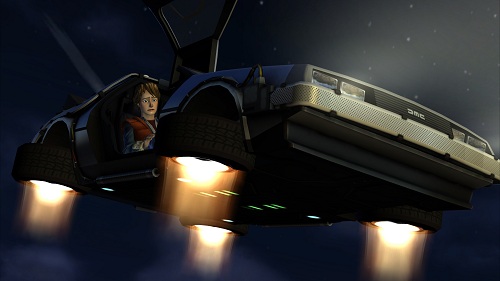 Set six months after the third film a mysterious re-appearance of the DeLorean means that Marty must go back in time and seek help from a young Emmet Brown or the space-time continuum will fold in on itself. Featuring Christopher Lloyd as Doc Brown, and a cameo from Michael J. Fox, you won't believe the talent of AJ LoCascio as Marty, Back to the Future was one of the most enjoyable adventure games of 2011, so what are you waiting for? Travel to the Future and pick up a copy!
Back to the Future: The Game will be available for the Playstation 3, Nintendo Wii and Windows during the first quarter of 2012.