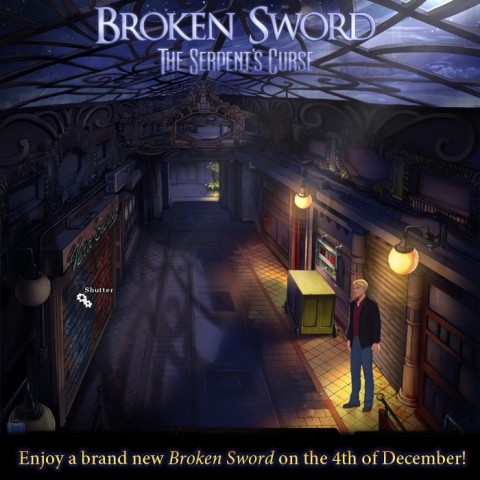 It's taken a while but Revolution Software have confirmed the release date of the upcoming Broken Sword 5: The Serpent's Curse, which was originally planned for a much earlier release. At least as a backer for the game on Kickstarter I felt that way especially as we were promised physical items from pledges back in April 2013, but it's ok I don't mind waiting for things I really want.

You wouldn't think it was over a year ago that Revolution Software raised a massive $850,000 via Kickstarter to help make a new addition to the Broken Sword series, with The Serpent's Curse. Well now if you were a backer, or if you're interested in the game you can look forward to it's release in under a month. If you backed the Kickstarter and pledged to receive a copy on Windows, Macintosh or Linux you'll get a copy of the game when it launches at retail, unfortunately if you requested an iOS or Android version they won't be launching on the same day, but they will be following shortly after the PC releases.
The biggest announcement with the release date is also that The Serpent's Curse will be split across two episodes that will conclude next year. Promising to end the first episode on a cliff-hanger, which almost tempts me to not play the first episode until the second one has been released. This has angered some fans that were wanting the game as one chunk as it of course hasn't been mentioned until just now. However if it means that the final episode will be able to have the time it needs to get it how they want it, then I'm happy.
"Whilst this is very much a classic Broken Sword game in terms of production values and sense of adventure, we're really breaking new ground with The Serpent's Curse," says Charles Cecil, Founder & CEO, Revolution Software. "The success of our Kickstarter appeal has allowed us to be hugely ambitious — each episode is a full sized game in its own right. So we will be publishing two action-packed adventures in close succession. The response to those that have seen the game so far has been hugely positive — some suggesting that this is the best Broken Sword yet."
Broken Sword 5: The Serpent's Curse will be released worldwide on Windows, Macintosh and Linux on December 4th, with a release on Playstation Vita later in the month. You can expect episode two to be released on Windows in January next year. If you weren't a backer, on PC you'll be able to buy the episodes separately for £9.99 each or £14.99 if both episodes are bought together, the prices and release dates for other formats are yet to be confirmed.