Adventure game fans may recall us mentioning a rather famous German adventure game; The Book of Unwritten Tales recently, publishers Lace Mamba Global have gone that extra mile, and have announced some extra perks to buying the retail edition of this critically acclaimed adventure game.
Those that buy The Book of Unwritten Tales will have a few extra bits in their box, including a 36-page art book with a selection of the character and environment concept art, a soundtrack CD, and a double-sided A2 poster.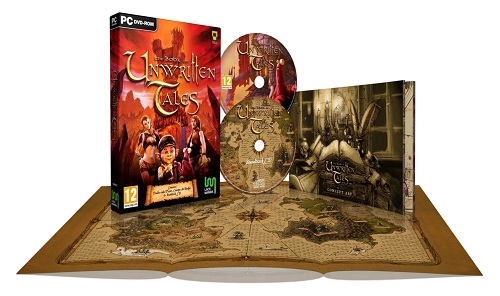 The Book of Unwritten Tales is a humorous point and click adventure game that is a homage to the RPG and fantasy genre across a wealthy history of books, movies and games, and most importantly it is full of dark humour.
The game's four eccentric characters include a gnome; Wilbur, the elf princess Ivo, human adventure, Nate and The Critter, a shaggy creature that has followed Nate for many journeys. The four heroes find themselves drawn into a world crisis as the Army of Shadows send out their best and most devious agents to discover the secret of a powerful artefact kept by the aged gremlin archaeologist Mortimer MacGuffin.
Featuring around 20 hours of gameplay and more than 150 puzzles, The Book of Unwritten Tales presents a massive game world inhabited with crazy characters ranging from vegetarian dragons to good-natured zombies.
The Book of Unwritten Tales is planned for release October 28th 2011 for the SRP of £24.99, Lace Mamba know how to give each of their releases special treatment in the form of physical extras, and The Book of Unwritten Tales looks like one point and click you should not miss out on this year.