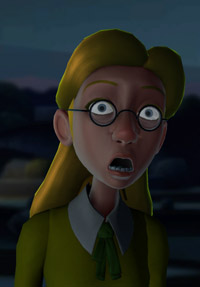 After being released in the UK back on December 17th on the PSN the Blue Toad Murder Files are finally coming to North America. These extremely British games, developed by Relentless Software are episodic murder mystery games that are exclusive to the Playstation 3.
The games take place in the quintessentially English village of Little Riddle where murder is in the air. As one of the famous Blue Toad detectives you have the chance to solve puzzles, interrogate suspects, and use your wit to solve the crime and identify the murderer. Was it the suspicious jeweller, the sneaky librarian or the iffy doctor, all will be revealed at the end of each episode of the Blue Toad Murder Files.
Episodes 1-3 are currently available in the UK and now North America, and episodes 4-6 are scheduled for release on the 29th April 2010.
Gamercast highly recommend these games if you wish to boggle your brains with the challenging puzzles. We've played episodes 1-3 and have enjoyed the extreme British nature of the games, as well as the puzzles. We highly recommend them and are looking forward to episodes 4-6.