Cyanide Studios have unveiled Blood Bowl: Chaos Edition in the newest adaptation of Games Workshop's brutal sport-based tabletop game that takes the ultra violent team sport to new levels with new races, stadiums, and World Championship mode.
If you are unfamiliar with the sport, it is inspired by the universe of Warhammer, and allows players to recruit a team of Orcs, Elves, Humans, Vampires, Ogres, Dwarves and countless other fantasy creatures that will literally throw themselves into the bloodiest of all arenas where tactics, cold-blood and unfair play are required to reign supreme and score the all-important touchdown.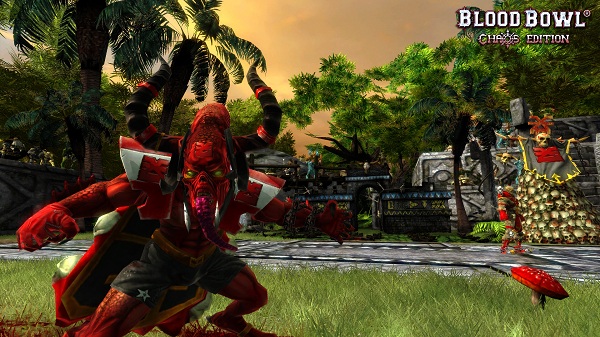 With more than half a million players seduced by the deadly sport, Blood Bowl: Chaos Edition introduces 3 new races; the malevolent Chaos Dwarves, the outcasts of the Underworld, and for the very first time ever; The Daemons of Khorne! With these new races you can challenge others to a game in the new stadium erected by the Amazon and Lizardmen in the heart of the jungle.
The Chaos Edition expands the singleplayer experience with World Championship mode that will increase national qualifying games, to continental cups, right up to the final tournament making the competition much bloodier! This is all on top of the online mode that will be available yet again with intense matches, private leagues and global rankings ready for your touchdown!
Blood Bowl: Chaos Edition is scheduled for a release this September for PC, and fans of the legendary sport will no doubt be thrilled to hear of this new 'ultimate edition'.