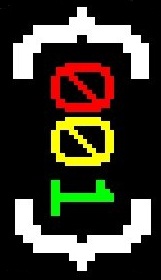 Massive congratulations to the guys at GLPeas who's off-the-wall puzzle/strategy game BlindGiRl will be featured at E3 as part of the IndieCade Showcase.
Released back in March, we were instantly enthralled by the title, and it's innovative wave propagation game play mechanic that propelled the game's innovative mix of discovery, adventure and puzzle solving, as they navigated BlindGiRl through a series of mazes, where hidden dangers lurked around every corner. When we reviewed the game we thought it was the best thing to come out of the Xbox Live Indie Game Marketplace for a mere 80 MS Points where it is available exclusively.
The IndieCade jurors select only a dozen games each year that they feel help form the future of gaming for showcase at E3, and BlindGiRl is one of the select few to make it, and will be on show as part of IndieCade from June 15th-17th. We are ecstatic to see GLPea's amazing game featured at E3, and we can only hope for more fantastic news from the group of developers based in Derby.