Arc System Works have announced that BlazBlue Continuum Shift Extend will be getting an exclusive Limited Edition for Europe which will be available on Xbox 360, Playstation 3 and Playstation Vita.
This very exclusive limited edition is set to contain:
12 super-high quality prints
Song Interlude soundtrack
A copy of BlazBlue Continuum Shift Extend
However the 12 prints aren't just any old prints, not only do they offer a rare glimpse into Arc's pre-production work in the form of technical concept sketches from the BlazBlue archives. But they're also printed on high-grade Hahnemuehle Torchon paper and are the exclusive item for European shores, and are unavailable anywhere else in the world.
The Soundtrack features not only new music that is featured in Extend, but it also has two vocal arrangements; Childish Killer and Blue-Bloom which have both been composed by Daisuke Ishiwatari.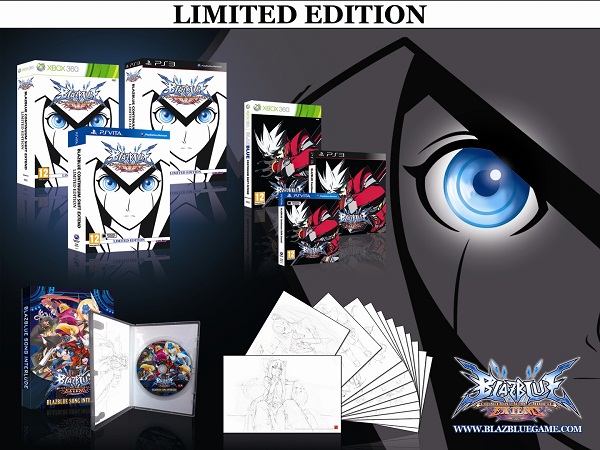 Extend sets itself out to be the biggest BlazeBlue to date, boasting all of the DLC characters as standard, a new character has been added to the mix; Relius Clover, plus it features Calamity Trigger's story remastered.
BlazBlue: Continuum Shift Extend will be available during the first quarter of this year for Playstation 3, Playstation Vita and Xbox 360.
With Continuum Shift Extend only being released on current gen consoles and the PSVita we can't wait to see how the new handheld handles the beautiful 2D visuals of BlazBlue.