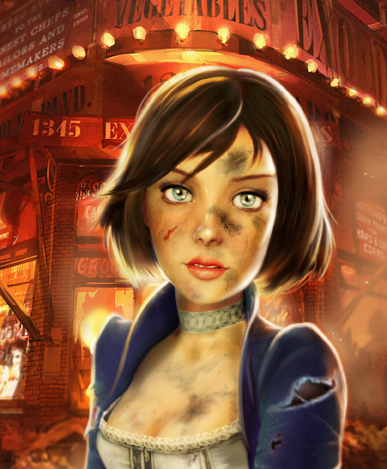 The time has arrived where Irrational Games and 2K Games have announced a stunning collector's edition for the upcoming BioShock Infinite.
Along with this announcement 2K Games have also released a brand new trailer for you to drool away at. Although if you don't want to spoil the game in anyway maybe you don't want to watch it as after watching about 20 seconds I realised I shouldn't have started watching.
With a choice for diehard-fans of the series or those who like a few extras 2K Games have you covered as they're not only releasing the Ultimate Songbird Edition but also the Premium Edition for those that want a few extras but don't want to spend a fortune on a game.
In the Premium Edition you can expect the following:
64-page mini-edition of the Art of BioShock Infinite (Dark Horse are releasing a larger one)
25mm Handyman figure for BioShock Infinite: The Siege of Columbia the board game
A Devil's Kiss vigor propaganda poster lithograph print
3.5" Murder of Crows replica keyring (A smaller version of the full-size replica)
Digital Soundtrack
Three pieces of unlocked skills within BioShock Infinite including; Bull Rush, Extra! Extra and Betrayer.
Booker DeWitt Avatar costumes/BioShock Infinite themes which are platform dependant.
In the Ultimate Songbird Edition you get all the items in the Premium Edition plus the stunning Songbird statue, the centrepiece of the whole collection.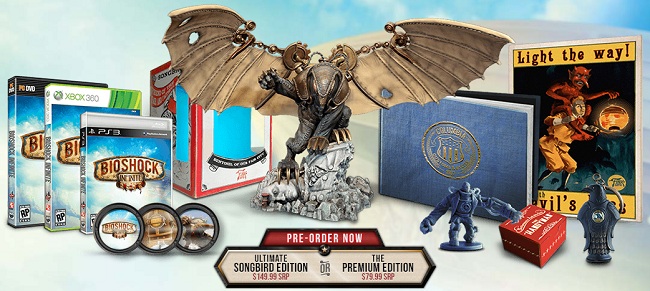 BioShock Infinite is of course out on February 26th on Xbox 360, Playstation 3 and Windows and we can't wait for the Songbird Edition it to go up for pre-order on sites in the UK from Monday 22nd of October. We hope you're looking forward to it too! Fingers crossed it isn't too expensive.