We recently previewed the distinctive adventure title Baron Wittard and couldn't stop ourselves from interviewing their writer and designer Alan Thron of Wax Lyrical Games, Baron Wittard: Nemesis of Ragnarok is their first title, so we thought we'd get to know a little about Wax Lyrical Games and some of the reasons behind making their atmospheric adventure game;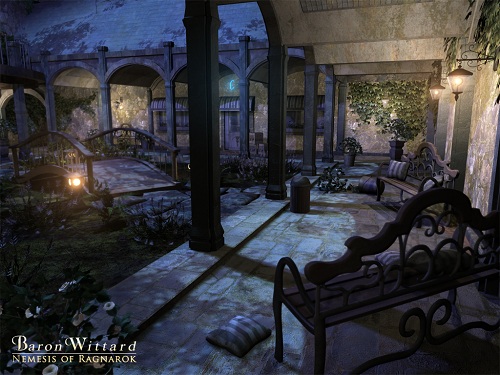 Gamercast: First off, for our readers that are not aware, what is Baron Wittard: Nemesis of Ragnarok?
Alan Thorn: In short, Baron Wittard: Nemesis of Ragnarok is a first person creepy adventure game for Windows. It is in many respects inspired by other famous genre classics, such as the Myst series, the Shivers series and the 7th Guest series. Players who enjoyed those games are likely to feel at home with Baron Wittard. The story centres on an eccentric architect who built a grand indoor city called the 'Utopia'. The Utopia features apartments, museums, cafes, offices and lots more. But it now stands abandoned and ruined. The player takes on the role of a magazine photographer initially dispatched to the city to take artistic shots of its gloomy halls and desolated chambers. But as the game unfolds, the player will find themselves entangled in a dark mystery, one that will involve uncovering an ancient evil that has been waiting for centuries.

GC: Why did you choose panoramic nodular gameplay and solitary exploration over the more narrative driven adventure game?
AT: The answer can be found in our desire to do two things: First, to create an adventure game of our own based on the solitary exploration style that we loved. Both Marlies and I are big fans of the Myst, Shivers and 7th Guest games, and from the outset of development both of us agreed that "we wanted to create something like those games". Second, we felt that there were already many interesting and exciting third person games available in the marketplace or on the horizon. But the same could not be said in the case of the first person solitary exploration games. Here, there appeared to be a comparative shortage, and we wanted to do something about that.
GC: From the name Nemesis of Ragnarok is it safe to presume that Baron Wittard has roots in Norse Mythology?
AT: Yes, Norse mythology is important in this game; though we do take some creative liberties with the original characters and stories. Though the story of Baron Wittard is set in the present day, the old tales of Norse mythology play a key role in the mystery to be uncovered. The characters in Norse mythology have prominent parts to play, especially the one-eyed Odin and the menacing 'wolf-man' Fenrir.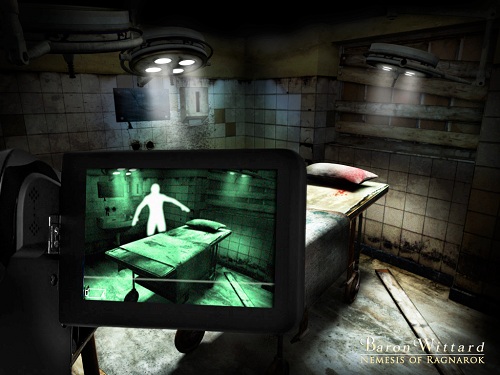 GC: The locations in the game are beautifully rendered, what came first, the idea of Utopia or the story that Baron Wittard is rooted in?
AT: Thank you. The Utopia came first, and the story came afterwards. There might be some gamers and developers who would argue that we somehow got it the wrong away around: that we should have created the story first, and the environment last. But I do not think there is a right or wrong way here. The word 'exploration' in the title 'solitary exploration game' indicates the importance of having a game world to explore. So from the beginning we knew that we would need to create a large world ripe for discovery: Myst has its islands encoded into books, Shivers had a museum, and the 7th guest had a house. So we settled on the idea of a city, and specifically an indoor city; a giant and sprawling city. The story developed from there.
GC: Baron Wittard must be close to finaling, is there anything that you would have liked to have changed or is there anything that had to get taken out?
AT: Yes. Baron Wittard has been an enjoyable learning experience for us as developers, and we are certainly satisfied with the results. But there are indeed aspects that we would have liked to change, added or removed. For example, I would like to have added a complete shopping mall with clothes stores and cold and creepy window mannequins staring out at you. This was something that I wanted to add from the beginning but which never made it into the final game, partly due to time constraints and partly because we could not find a way to integrate it well into the story. So we left it out and I have resolved to include it somewhere in a future project.
GC: Who are Wax Lyrical Games? What other experience have you got in games?
AT: Wax Lyrical Games consists of two people, each of us located in a different country. There is Marlies Maalderink who lives in the Netherlands. Marlies worked on 50% of the game graphics, co-designed the game and created the game website. And there is me, Alan Thorn. I live in London, in the United Kingdom, and I co-designed the game, and am also responsible for the programming, 50% of the graphics, and some of the music and sound effects. Other music tracks in the game were created by two artists who helped us: Mike Mcloone and Ran Kirlian.
As developers we have very different histories, Marlies has previously worked on the fan-game the 13th Doll, and I have a variety of freelance experience working in some way on different games over the past ten years. But for both of us, this game represents a first in that it is our first commercial game working independently.
GC: Your team is very small; did you find developing Baron Wittard quite difficult?
AT: Both of us found the development of Baron Wittard challenging. It was challenging because the development of our game posed so many challenges to us. We found ourselves having to brush-up on our 3D rendering and art skills in order to produce the game graphics, we had to invest some time and money in a suitable engine for the game; we selected the DX Studio engine. But even with this, I had to brush-up on my maths in order to program the panoramic 3D engine camera that is used to give the player a full 360 degree view of the game world. We had to learn new planning concepts and techniques to ensure we worked efficiently, and then we had to revise our movie making skills to create the cut-scenes for the game. In short, development of Baron Wittard was a challenge, and in rising to meet that challenge we have learned a lot and had a lot of fun, and I hope that gamers enjoy the result.
GC: Are you working on anything else, are there any other games in the works?
AT: We have plenty of ideas and plans, and are looking forward to speaking more with you about them. But first we shall take a small break to recover our energies. After this, we will assess the commercial performance of Baron Wittard in the marketplace, and we will use this to influence our decision about what to do next.
It's great to get a little inside story on Baron Wittard: Nemesis of Ragnarok, and it's safe to say that the team at Wax Lyrical Games are extremely hard workers, and it goes to show that you do not need a huge team to make a great game.
We love to support small games companies at Gamercast, and for the people at Wax Lyrical Games we wish them the very best for the launch of Baron Wittard: Nemesis of Ragnarok, and cannot wait to see how they include shop-window mannequins in their next game. We hope that everyone enjoys the terrifyingly atmospheric experience that the game will be when it is released for Windows early 2011. Check out our preview if your interest has been piqued.