Every DeathSpank title to date has had a co-operative partner, this is just as much as the case with his newest adventure in The Baconing, where he will be joined from the fierce, the mighty; Bob, from marketing.
Now the best -and in fact, my favourite- aspect of the series is the huge range of unique weaponry and armour in the game; all complete with fantastically inventive descriptions and names, and to top it all off, they are not all one model, they all look completely different!
So along with the announcement of Bob from marketing, the Baconing will also contain a selection of 'Weapons of Justice' that will unleash holy heck when DeathSpank's Justice meter is full.
Two of these ultimate weapons are the Drill of Justice and the Mobile Nuker, both capable of immense destruction whether you want it 10,000 rpm at close combat or an air strike to rain annihilation down onto your enemies.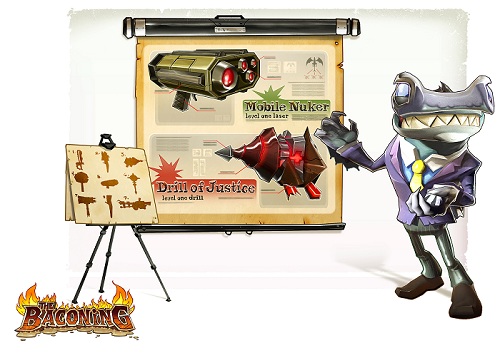 We also get a sneaky peak at some new armour sets, similar in humour to the fantastic Rambo outfit of Thongs of Virtue, we have the Technocrat Armour; inspired by robotic policeman and 1950s cars, and the Pinstripe Platemail Armour; the latest in gangster fashion.
However, this is DeathSpank, so you can wear and equip whatever you want, with twenty armour sets to collect, and seven Weapons of Justice you'll have a bulging wardrobe to defeat the evil AntiSpank.
The Baconing is due for release this summer on PC, Mac and other still unannounced platforms; we're hoping Xbox Live Arcade and Playstation Network.