We love Collector's Editions and all that jazz at Gamercast, heck Catherine has unboxed over 30 different ones on our Youtube channel. So it's that time of the year again!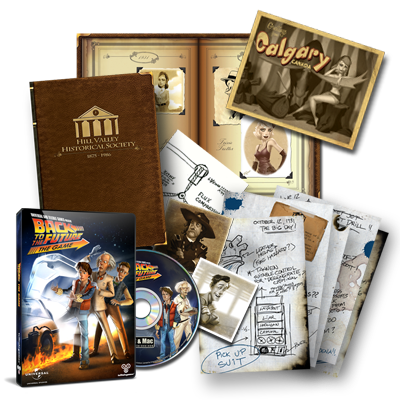 With Telltale's fantastic nostalgia trip in Back to the Future: The Game finishing up its last episode a couple of months ago, the Collector's Edition DVD and Special Deluxe Edition have been unveiled and are now available for pre-order from their store.
As standard, if you already bought the series online you can purchase the Collector's Edition DVD for the mere price of shipping and handling. This edition comes with all five episodes on the Disc compatible with PC and Mac, including Behind the Scenes Videos, Team Commentaries, Trailers Production Art and more. If you stick to the physicality of boxed products then you should be racing to get your copy ordered.
However if you prefer things to be a bit more special, then you've the Deluxe Edition which has a limited production run of 2,500 copies. It includes the Collector's Edition DVD with an exclusive cover as well as;
A Photo Album featuring 15 portraits from the Hill Valley Historical Society
Doc Brown's Notebook
Trixie Trotter commemorative Postcard
Flux Capacitor Diagram
With everything a bit more paper than usual it doesn't seem like there are going to be any pin badges, coasters or stickers like we sometimes get from Telltale's special editions, however if you own the series already it's just $19.99 for the Deluxe Edition, and with a limited run, you'll own one of a handful of copies!
There are also two new additions to the store on top of the DVD's including a fantastic Back to the Future: The game full sixed movie poster, and a Back to the Future Art Portfolio.
The Collector's Edition DVD and Deluxe Edition DVD can be bought without a season purchase for $24.99 and $44.99 respectively, and will be shipping September 2011. If you order some shiny merchandise now, you can save 15% off orders over $50 until August 31st.