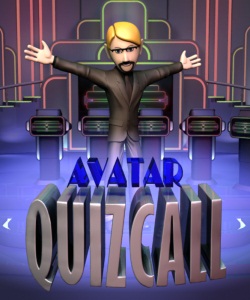 A follow up from our previous piece on Avatar QuizCall made by the recently emerged developer on the Xbox Live Indie Marketplace BBQ Games.
After the success from their first two games; Spiders! Why Spiders! and Simply Hangman, BBQ Games have officially launched their third game to grace the Xbox Live Marketplace.
Now we like to make up interesting lines that play on words or games every now and again, as who doesn't? But I really want to congratulate BBQ with their awesome lines for Avatar QuizCall.
Scene it! and done it?
Finding other games a little Trivial?
Missing 1 vs 100?
Just love it! But it does help to explain who the core audience of QuizCall really are. It helps to test your brains just like every quiz game out there, but it is portrayed differently by taking the stereotypical style of game show we all know and love.
With the upper hand of using your avatar, it's on par with other full price quiz titles out there, and boasts over 1000 questions, along with regular updates of extra questions as well as improvements to the game itself.
"Loving quiz games but wanting more, what else was there to do, but to bring our own franchise to the
Xbox" Says Mark Dickinson, Lead Developer at BBQ Games. "We found ourselves frustrated at waiting
for DLC and the next season of 1vs100. So here we are, a lot of hard work later, with the next must have
quiz game for the Xbox Avatar QuizCall"
All of us at Gamercast are extremely happy with BBQ Games' idea to create their own quiz show, as although Scene It? is amazing with its film only questions, it then excludes those with less film knowledge. 1 vs 100 has its great points, but when the sports or celebrity questions came up at times it seemed pointless in us taking part as we just didn't know the answers.
So we're hoping with a large number of questions with a retro game show feel we're going to love playing Avatar QuizCall again and again, making sure we can all beat Paul.
For a four player quiz title it's a steal at 80 Microsoft Points, and we can't wait to get our hands on it!