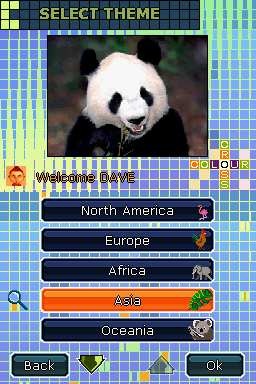 Puzzle fans around the world, if you have not heard of Picross before, sit down, and listen up, because you needn't be bored of your Nintendo DSi any longer, Animal Color Cross has hit Nintendo DSiWare, guaranteeing a far more interesting summer holiday, or fun commute.
Forget Sudoku, Kakuro or Hitori, and pay attention to the Nonogram, or Picross (Picture Crossword) as it is also known. Little Worlds Studio caught onto the Nonogram puzzle back in 2008, and have made new titles using the addictive puzzles ever since with the title of Color Cross.
Nonograms are picture logic puzzles, in which cells need to be coloured in or left blank according to numbers given at the side of the grid in order to reveal a hidden picture, just like Sudoku it is a game where guessing gets you penalties, and is subtly mathematical, and therefore extremely stimulating for your brain, so all you puzzle fans out there with Nintendo DSi's need to check the title out.
Exclusive to Animal Color Cross that makes it different from other Nonogram titles such as Griddlers or Picross 3D is Little Worlds Studio's extremely handy mechanic that aids the player with completing the puzzles, by having the player complete each colour individually, and shows that handhelds are one of the best markets for logic puzzle games.
Animal Color Cross is far superior to its predecessor Color Cross that Rising Star published in the UK back in 2008 which had a complete lack of a save function, that meant if you needed to stop halfway through a puzzle, the only choice you had was to close your DS and hope that it doesn't run out of power before you finish it.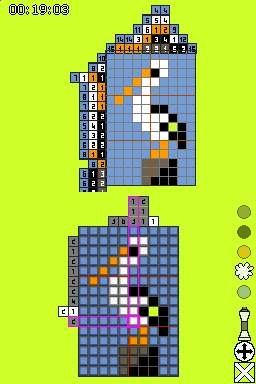 Featuring over 70 grids that will span over 50 hours of gameplay, players will be able to select their grids by geographical zone, each of which increases the level of difficultly, but best of all, there is no failure state, you will never be told 'Game Over', you will simply rack up time penalties that will hurt your overall completion time for each grid, unlike the original Mario's Picross that would end your game if you took too long on a grid.
The only plausible issue with Animal Color Cross is that you will tell yourself that you are going to play it for 5 minutes, and before you know it, an hour has gone by, it is really one of those 'just one more' type games, and subscribes to the pick-up-and-play genre.
Color Cross is taking the puzzle gaming world by storm, and its legacy of titles are available across the Web including websites such as MSN Games, Boonty.com and Facebook, as well as a strong title on the iPhone, Nintendo DS and now Nintendo DSiWare, maybe we might see one as a downloadable title on a home console soon, Nonograms have been asking for a home-console title for ages in Europe, hopefully we'll get one soon.
For only 500 points you will be lost in the hours of gameplay that Animal Color Cross has to offer, just like Sudoku, once you've got the knack of the puzzles, you'll never want to put it down. Animal Color Cross is available now on the Nintendo DSi Shopping Channel for 500 points across Europe and America, it's the perfect game for your holiday this year, so don't miss out!