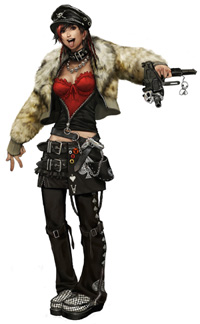 Realtime Worlds have announced that they are looking for participants to help them with the third (and final) closed beta session.
The beta has been underway for months already, but they're still looking for some more help, you can sign up here and lucky participants will be able create characters similar to the image of Aces to the right and join in on the violence in San Paro.
APB integrates third-person action into a persistent online multiplayer world, which offers a new perspective on MMO gaming. Realtime Worlds call it 'Mass Mayhem Online' and those lucky enough to gain access to the closed beta will be able to experience the rich customisation and brutal combat that APB has to offer.
"We're looking forward to welcoming thousands of new players to San Paro in the coming weeks." said Dave Jones, Creative Director at Realtime Worlds, "As APB enters this final stage of closed beta testing, we're anticipating a huge surge of interest with gamers from all over the world applying to take part and provide invaluable feedback to the development team preparing us for launch."
APB is set to launch in North America and Europe on Windows later this year, dates are still however unconfirmed.