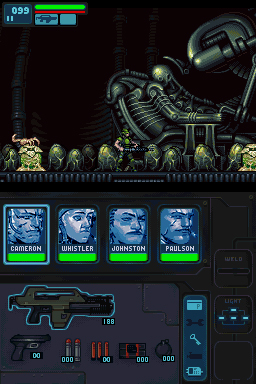 WayForward; those brilliant developers that brought A Boy and His Blob back into the hearts of players, and responsible for the slick and beautiful BloodRayne revamp have announced that they are bringing a new Aliens title to the Nintendo DS in conjunction with Sega.
Aliens: Infestation will be the latest game in the popular ALIENS film series since ALIENS: Thanatos Encounter on the Game Boy Color 10 years ago!
In Infestation, players will be able to recruit and play as 19 different marines; each with their own unique dialogue, and explore iconic environments including the Sulaco, the Derelict ship and LV-426.
Sticking to the genre that they know best, Infestation will be an action-heavy side-scrolling exploration game as part of the expanded ALIENS universe, with a fantastic art direction, including character design by comic artist Chris Bachalo.
With the vast array of iconic weapons and tools from the series, players will be pitted against the overwhelming Xenomorph hive, allowing players to explore large-scale versions of some of the most loved environments in the iconic films.
"In contrast to our other Aliens title in the works at the moment, Aliens: Infestation delivers a game that focuses more on exploration of the expanded universe," comments Gary Knight, Senior Vice President of Marketing, SEGA West. "WayForward really put all their passion into making Aliens: Infestation the definitive Aliens experience that you can fit in your pocket."
Taking place in the expanded universe, and not the linear path of a film, gives players the chance to explore one of the most iconic science fiction series'. Whether or not the game is counting as canon, has not been elaborated on, but with a release in a few months, Nintendo DS fans can shoot up some Xenomorphs. Aliens: Infestation will be available September 2011 exclusively on the Nintendo DS.
We love our science fiction at Gamercast, and WayForward have given us some beautifully animated games in the past, heres hoping that Aliens: Infestation will be a great addition to the ALIENS IP, and the WayForward catalogue.