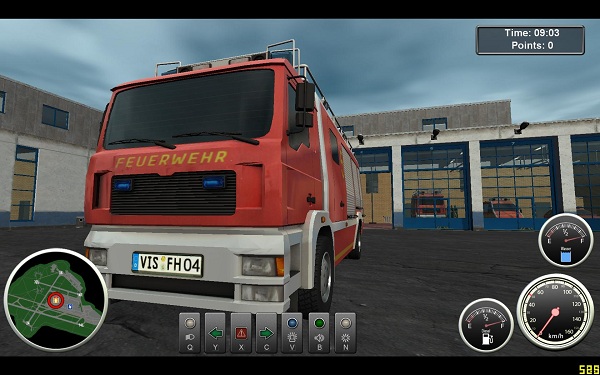 Every little boy wants to be a firefighter when they grow up, but how about an airport firefighter? No? Nowhere is as dangerous and at risk to fire than a modern airport; you wont find more travellers in as close proximity to such highly flammable fuel amongst other hazardous materials, and it actually makes a fairly good open simulator.
Airport Firefighter Simulator contains a true career mode, you won't be travelling from mission to mission aimlessly, instead you live the life of a fireman on 24 hour shifts, you can chill out at the fire station, have a rest or just drive around when there's not an alarm, at the end of each shift you'll be awarded points based on your successes and slowly climb the station's hierarchy eventually allowing you access to the expensive 'toys'.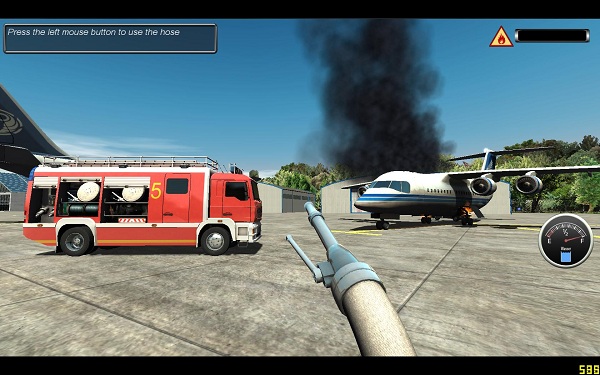 Your first shift will even see you get a guided tour of the station and the airport from your superior, who can swagger like the best of them. Be forewarned, the walking animation on all characters in the game is very... unique. The tour will get you up to speed with the areas that you will be covering, its semi-tutorial nature makes a fantastic addition to the simulator genre that generally likes to leave their fans in the dark with a few quick text boxes explaining how to play. The tour also lets you in on your first responsibility as a new recruit; checking the outer perimeter fences for holes.
Don't stop reading, being an airport fireman does get exciting, and if there is one thing that you will learn as a rookie fireman it is the magnitude of bin-related fires that you will encounter, I am unsure if it is a common occurrence at airports such as Heathrow, however in our fictional airport, there seems to be an arsonist around and they're targeting helpless refuse receptacles.
Don't worry you will get to tackle proper fires, and more than likely on your second or third shift you'll bear witness to all manner of fires from landing gear, trees, skips, even whole airplanes. There is a real sense of urgency when a fire is reported also; with only 3 minutes to respond you've got to race to the site and put out the fire before it spreads or you will shortly have an incident on your hands.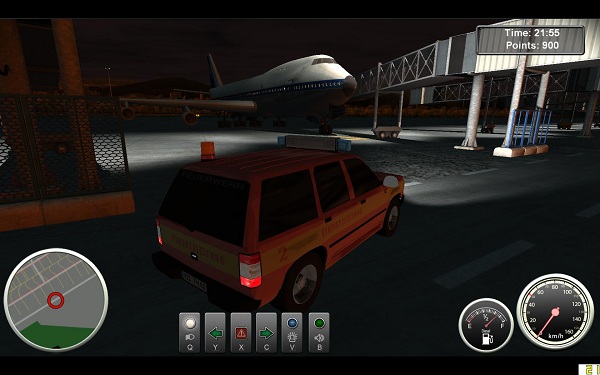 The one very obvious feature of Airport Firefighter is that the driving contained in the game is very much arcade, you'll turn corners at the drop of a hat, and it feels as though you are playing a grand theft auto game. Whilst I'm not particularly a fan of simulation driving, if you are be aware that you'll find none here. This is one of a few oversights that appear to be present in this simulator, including the lack of a reset button; so topple your vehicle and you're pretty much screwed.
However, one very nice simulator option at your fingertips is the ability to set the length of your day, you do not get half a dozen options like in Farming Simulator, but you can set your shift to be performed as short, medium or long. Whilst you won't be able to carry out a real time 24 hour shift, a long shift will set you back about an hour, and will give you more than plenty opportunities to dowse a fire or two, however if you just want to get through the day, a short shift will only last you about 15 minutes, don't worry as you always have the option to change the shift length from the options menu.
Carry out enough shifts and you'll find that the station's trust increases, whilst you will start out with basically a van and a fire extinguisher, as you go you'll be given a Tanker Fire Engine, complete with hose, extinguisher and cooler, get up there and rub shoulders with the big guys and you'll even get to take charge of the high-tech PANTHER and obliterate any fire out of the sky.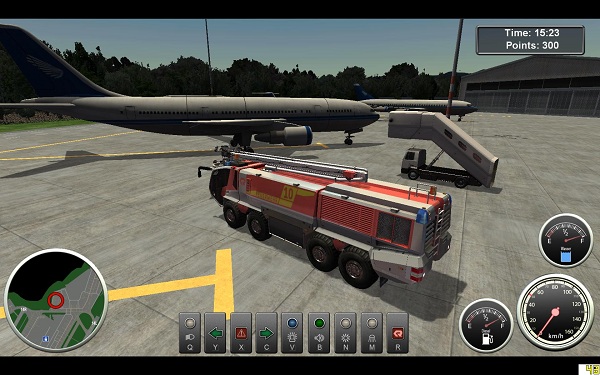 What was most surprising, and a particularly harsh presumption on my behalf, was that the airport is not dead and soulless as expected; you'll see airplanes land, baggage cars drive around and do their business; you'll even have other firemen get called out to a fire if you don't appear to be making it in time, the game is truly a sandbox simulation.
Airport Firefighter Simulator is a completely different game to what the screenshots suggest, with a comprehensive career mode, progression based rewards, and a whole lot of fires, that runway isn't going to clear itself.

Airport Firefighter Simulator is available now from all good stores and online retailers for the SRP of £24.99, as a fairly comprehensive career orientated sim, it'll keep you entertained for lot longer than your standard mission based simulator.