Ever wanted to be in charge of Air Traffic Control? No, far too significant a job, that's what we thought, however the guys over at Nemesys Team Studio are giving gamers the chance to give it a go in their new title Airport Control Simulator. As an Air Traffic Controller you will experience the stress and hectic pace of having to land all of your planes as safely and as quick as possible, while avoiding collisions, and monitoring fuel loads closely. Is the altitude of the plane correct? Which do you think could stay in the air longer?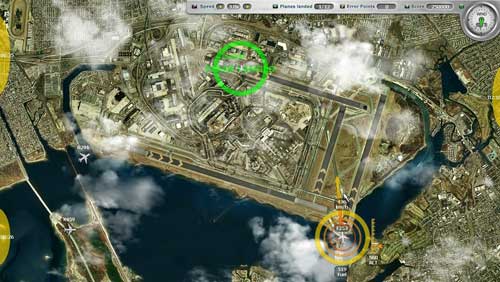 Rather than a serious sim, Airport Control Simulator has been created with a casual addictive gameplay, containing 15 different international airports, the game is presented top-down through aerial photographs, combining realistic airplane behaviour and dynamic weather conditions that will all test your might against the complex job that you take up, and of course, any accident will end in your dismissal.
We are very interested to see how Airport Control Simulator works effectively as a casual title, while also managing to actually feel like you are controlling the airspace, Iceberg Interactive's CEO has every faith in the title, and believes it will prove to be a very addictive game.
"We're very pleased with signing the publishing rights to this addictive simulation air traffic control game. You have to guide planes down to their runway without causing any danger and before their fuel runs out. You start out easy with one airplane, but the frenzy really kicks in when you have 10 planes coming in from all angles, with different speed and altitude. For your efforts you get scores, bonuses and you unlock new airports. It's instant fun and you won't want to stop playing."
This somewhat quirky but very intriguing casual simulator game is set for release in the UK on the PC for May 7th 2010.