You may remember us mentioning Airport Control Simulator back here, well its being shipped to retailers across the UK as we speak ready for its release date of May 7th. If you've never heard of the title before, Airport Control Simulator is a casually addictive simulator where you must land planes across 15 different international airports; and is presented in a top-down view through aerial photographs, remembering that any accident in air space is an immediate dismissal!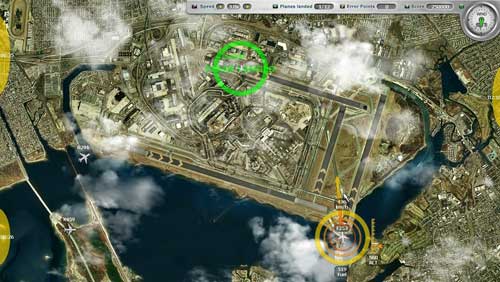 If you are a little sceptical about the game don't be! We tried the demo and its actually real good fun, just don't get surprised when you get in over your head trying to land seven planes at Barcelona Ariport! Thank goodness they aren't all coming into air space at once! You can download the demo from Fileplanet now, don't even think about giving it a miss, you may be surprised at how engaging the game actually is, and for a 24MB download it's not going to break your bandwidth.
Airport Control Simulator is a genuinely fun game, and we were hooked as soon as we found out we'd gotten to the end of the demo, it has an SRP of £19.99 and should be available in all good retailers this Friday for Windows.