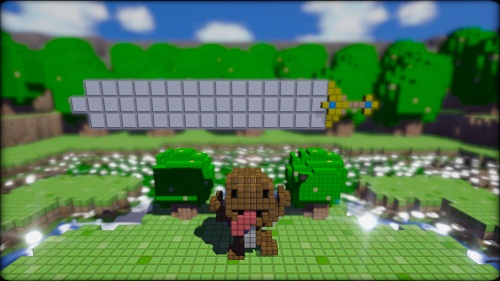 Thanks to all of the creative fans out there Atlus have announced that there will now be an additional fifty fan and staff created heroes as well as a few nitty bug fixes in their newest update for their fun-tastic RPG 3D Dot Game Heroes. Atlus have also unveiled that fans of the game will be able to save the kingdom of Dotnia as Sackboy from MediaMolecule's hit LittleBigPlanet, although you aren't able to change his expression or slap enemies in game, you will have the great likeness of the incredulous Sackboy to trapse around the kingdom.
"We can think of no more fitting a character to feature than one that has become synonymous with creativity and imagination in gaming: Sackboy," said Aram Jabbari, Manager of Public Relations and Sales at Atlus. "Now, people who start up their copy of 3D Dot Game Heroes can begin their adventures through the grand Kingdom of Dotnia with one of gaming's most recognizable icons!"
The fifty fan created heroes were selected by Atlus from the best from the 'Hall of Heroes' character-sharing hub that allows players worldwide to share their custom-built heroes created in the powerful character editor that comes with the game.
3D Dot Game Heroes is an RPG for those nostalgic for the good old days, before androgynous protagonists ruled the gaming world, and when RPGs were challenging, if it sounds tempting check out our review. 3D Dot Game Heroes is available exclusively for Playstation 3