Atlus have launced the Hall of Heroes, a new character-sharing hub for 3D Dot Game Heroes, that features on the games official website, allowing players worldwide to share their custom heroes created in the games amazing character editor.
Using the character editor players will be able to build whatever they want with the visual flair of gaming from the 8-16-bit eras; if you want to go around Dotnia slaying enemies as a chair, then go ahead, make a chair! Not only will your character look stunning, but you can also create six different poses, so they will move effectively too, bringing anything —even a chair!- to life.
As well as allowing players to create their own heroes to share with fellow players worldwide, Atlus are also rewarding their American fans that create the best designs with Amazon Video Games credit, just don't go trying to make your favourite licensed property, let alone anything explicit or profane, apart from those rules the possibilities are endless! You can find the Hall of Heroes here.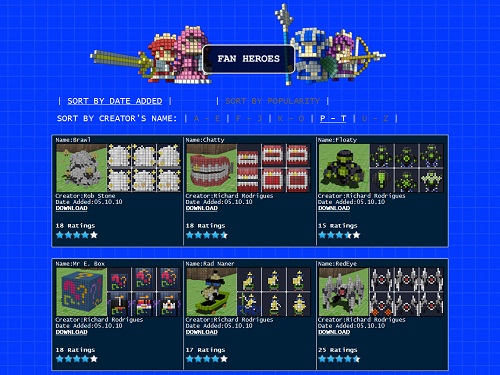 If you haven't done so already, you can read our review here for 3D Dot Game Heroes which is out this Friday; 14th May exclusively for Playstation 3 with an SRP of £39.99.